Custom Design

 

is the heart of our business.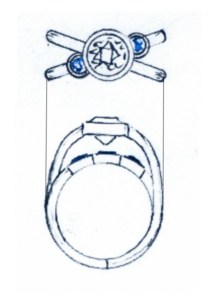 Being a jewelry designer is about listening to customers, seeing possibilities and using our experience and new technology to help customers share the experience.
We have gotten good at it and love what we do.
Custom Design Stories
"We want to reset a family diamond…"
"We want to reset a family diamond…in a design that feels classic but with some individuality. We want white metal, small diamonds in the wedding band, and the ring should be delicate but durable."
We started by looking through our design portfolios. Two related designs stood out to them. They liked the symbolism of the double wrap but didn't want prongs and wanted diamonds on the wedding band.
We talked about budget.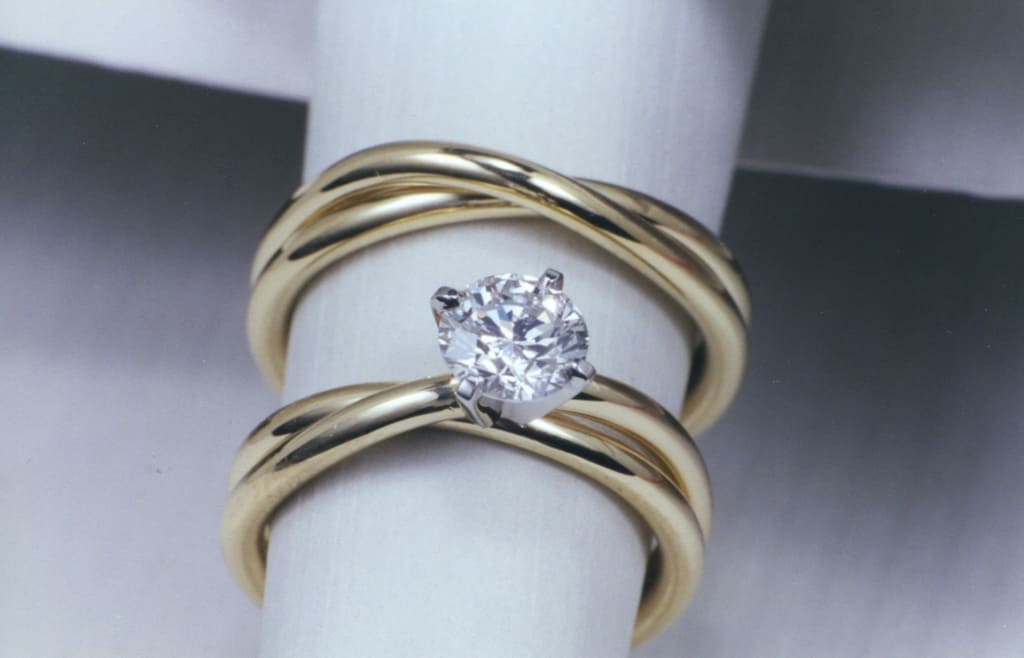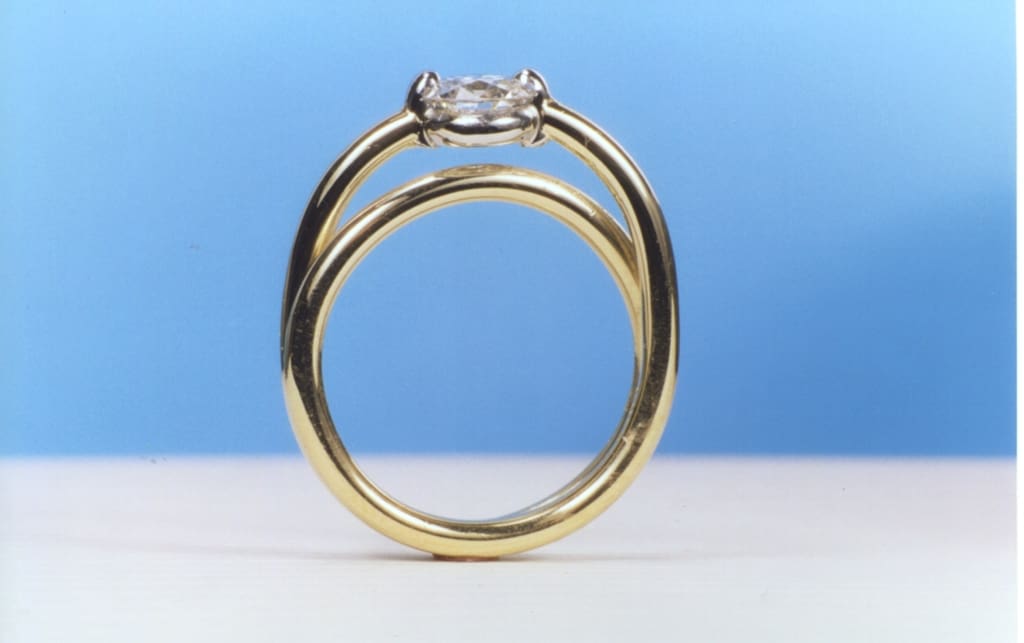 In the past, we started with pencil drawings in color and in actual size. Customers told us that the finished jewelry was even better than they expected.
We now design using a computer. We can quickly explore design options and render them as very realistic images. Customers can see their jewelry before it is made and they still tell us that the real thing is even better than they expected.
We designed a bezel-set version of the original yellow gold rings in 3D.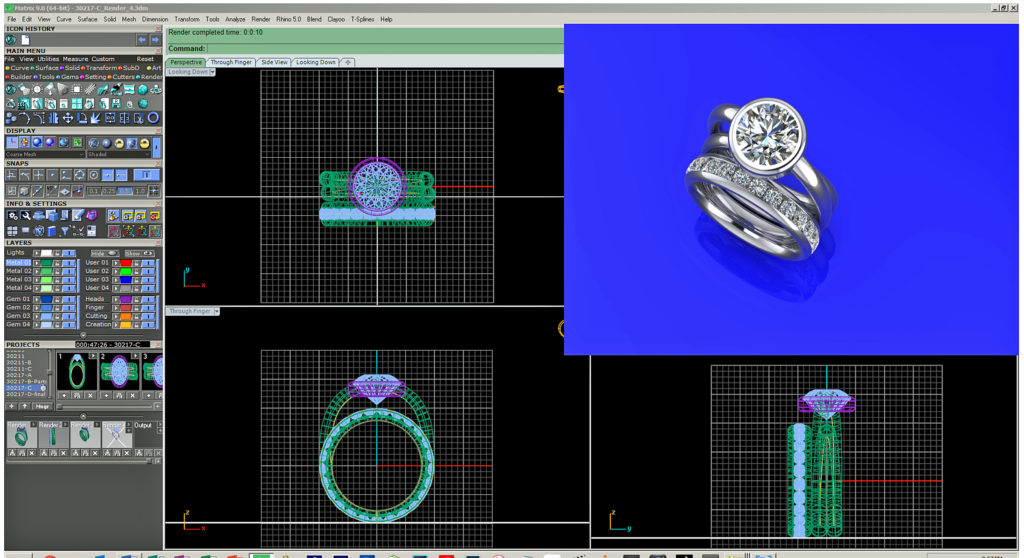 …and then visualized it in computer-rendered images including an image with the wedding band.
"My girlfriend likes halo rings."
We do too. But, we don't like diamonds so small you can hardly see them and set in tiny fragile prongs. Our version achieves the same BIG diamond effect with slightly larger diamonds, set in a way that is durable enough to become an heirloom.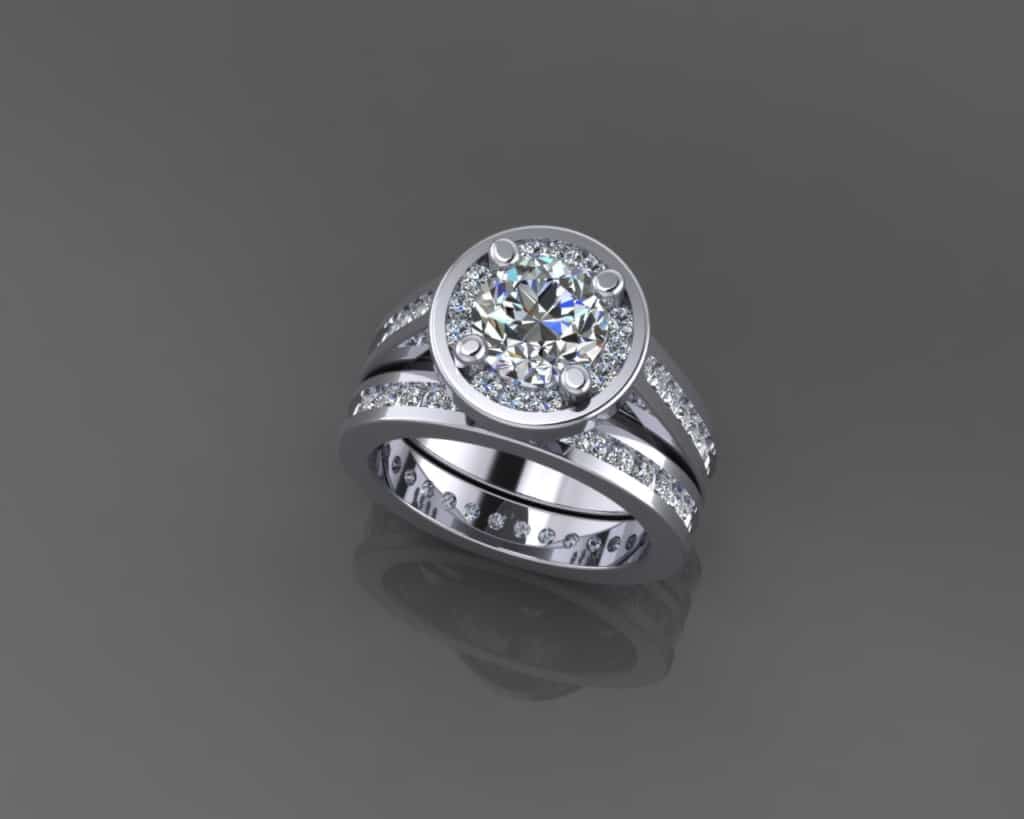 Computer Rendering with Band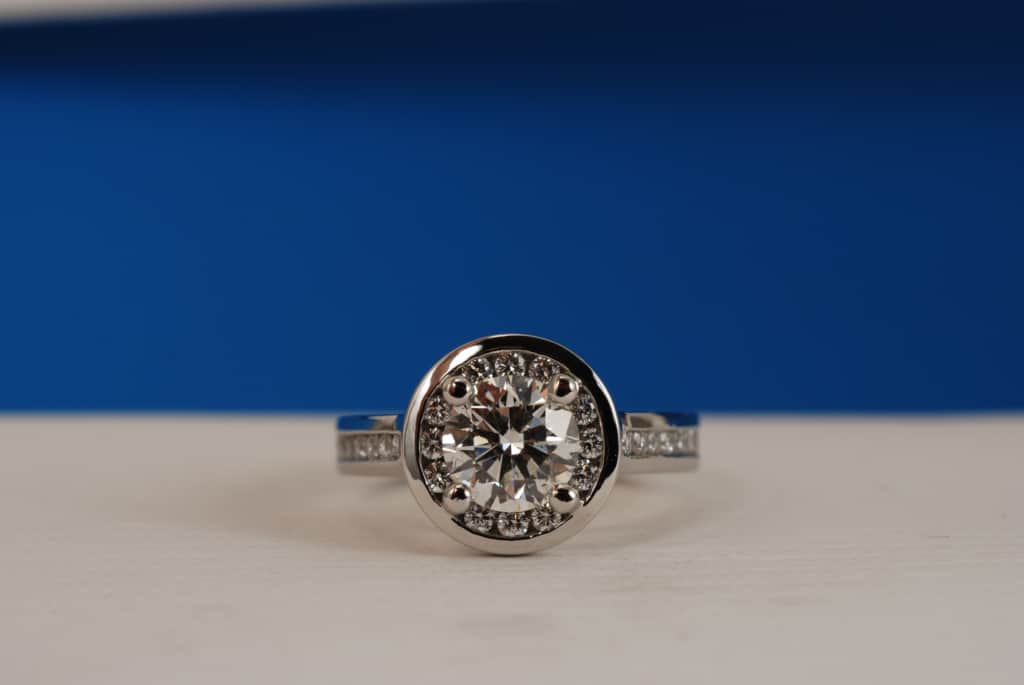 Finished Platinum and Diamond Engagement Ring
Diamond Recycling
This ring used diamonds of various sizes, accumulated from multiple rings the customer owned but didn't wear.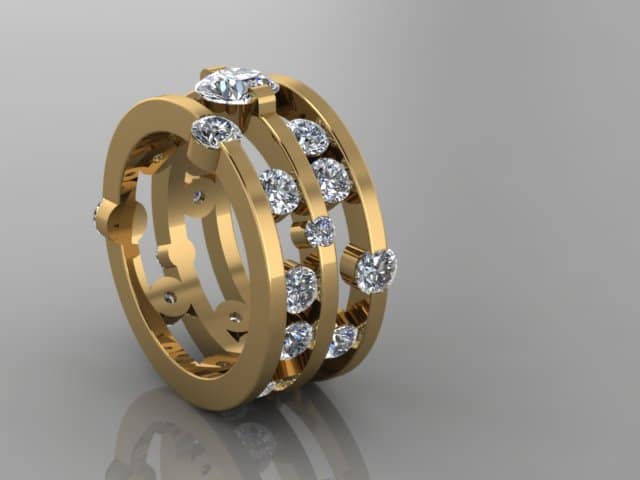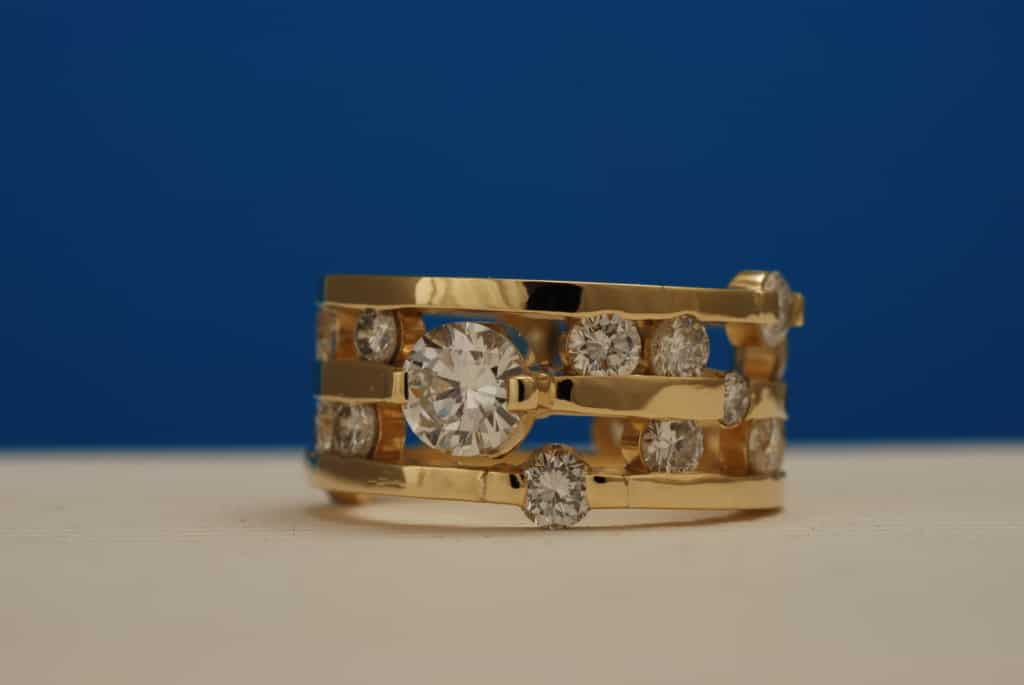 Finished 18K and Diamond Ring
The Wurlitzer
This Wurlitzer Jukebox/tanzanite pendant is typical of an old school, no new technology involved project. It was made for a collector and can sit on a table or be worn on a chain. The drawing was traced in pencil directly from the key elements of the photograph. The finished design was then hand-constructed from platinum and 18K yellow gold wire.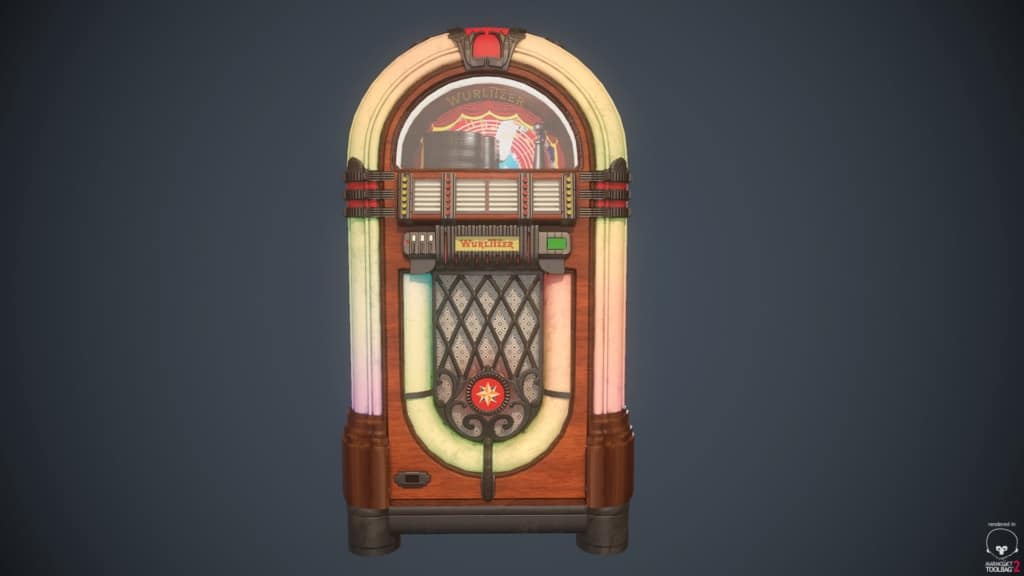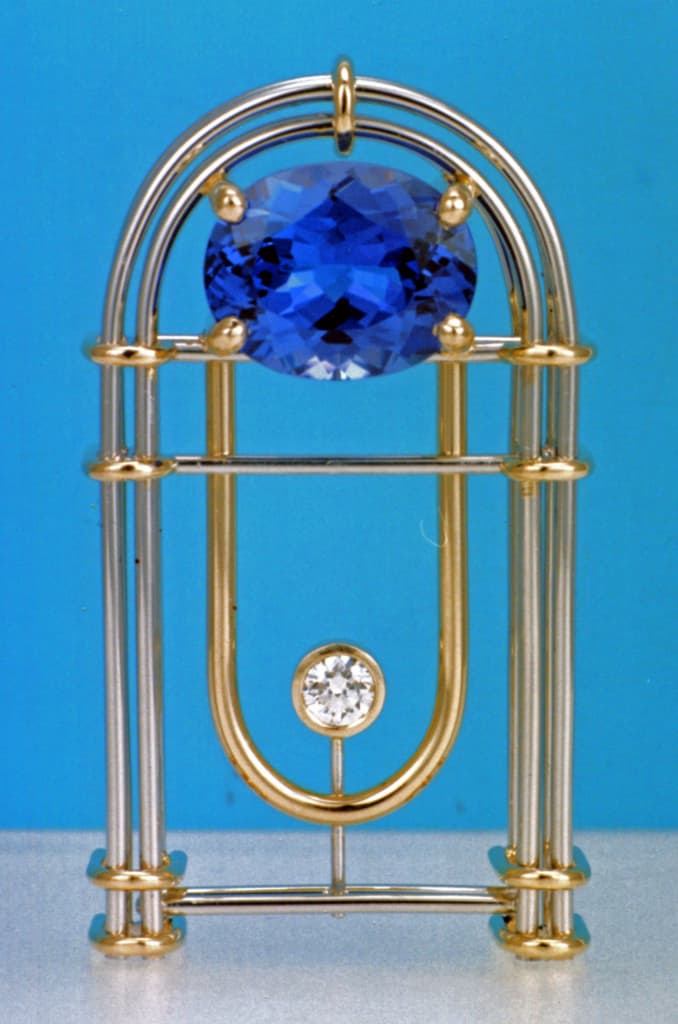 The Business Card
A marmalade company in Williamsburg uses this historic crown graphic in their logo.
One of our early CAD projects was to transform the crown into an 18K pin.