The Studio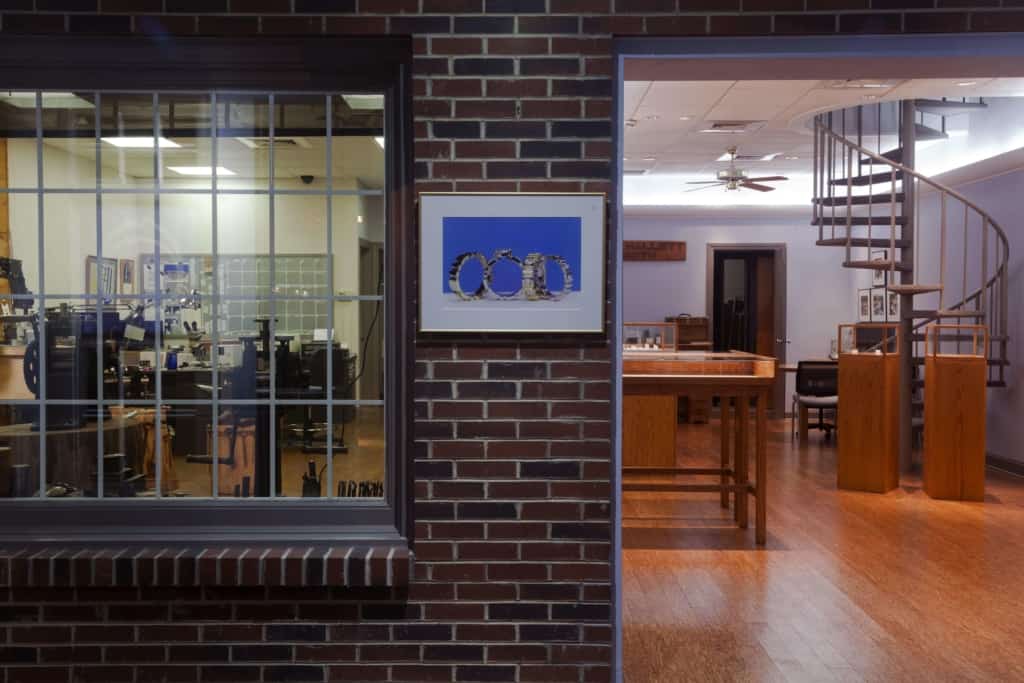 As you walk in the front door, you can see that The Studio is more than a jewelry store.  We like the shop-within-a-shop feel that really describes the two parts of our business. 
The Showroom on the right displays our work and the work of other designers we love – and it is where we begin the custom design process with customers. 
Those designs are then custom-made in the Workshop on the left.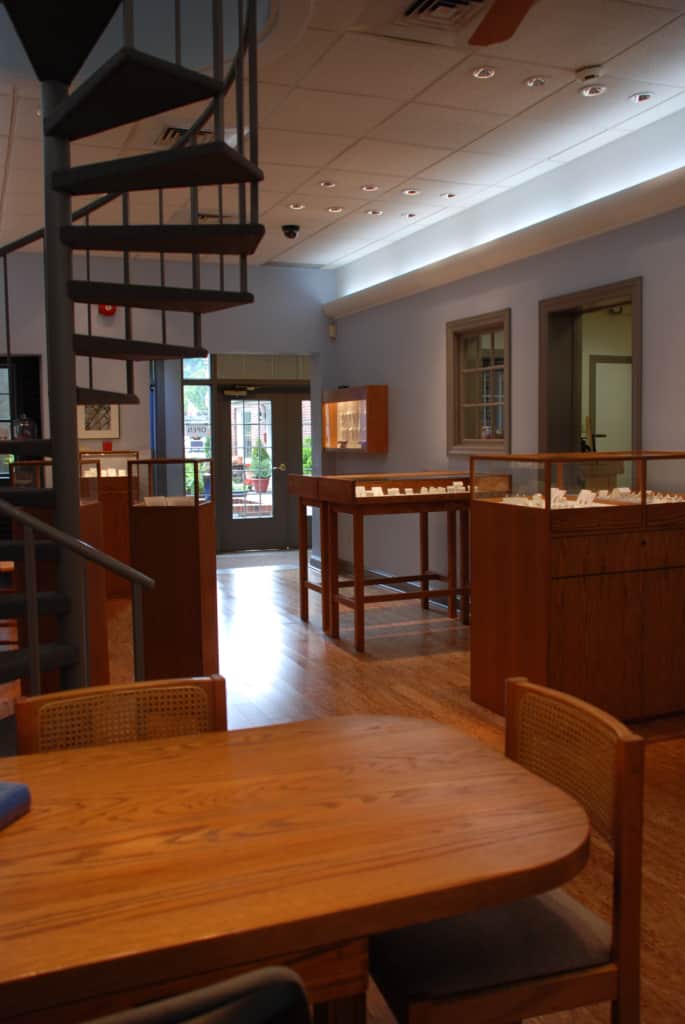 When Kyle and I first moved the studio to this location in 1984, the workshop was up the spiral staircase.  Today, Kyle's photography studio and our daughter's law office are on the second floor.  Our floor is made from recycled mulberry branches from the bushes on silkworm farms. 
My father built all the display cases in the studio showroom.  The two flat cases by the door fit in a VW Beetle. They traveled thousands of miles to craft shows starting in 1974 before they landed in our first Oakmont location in 1980.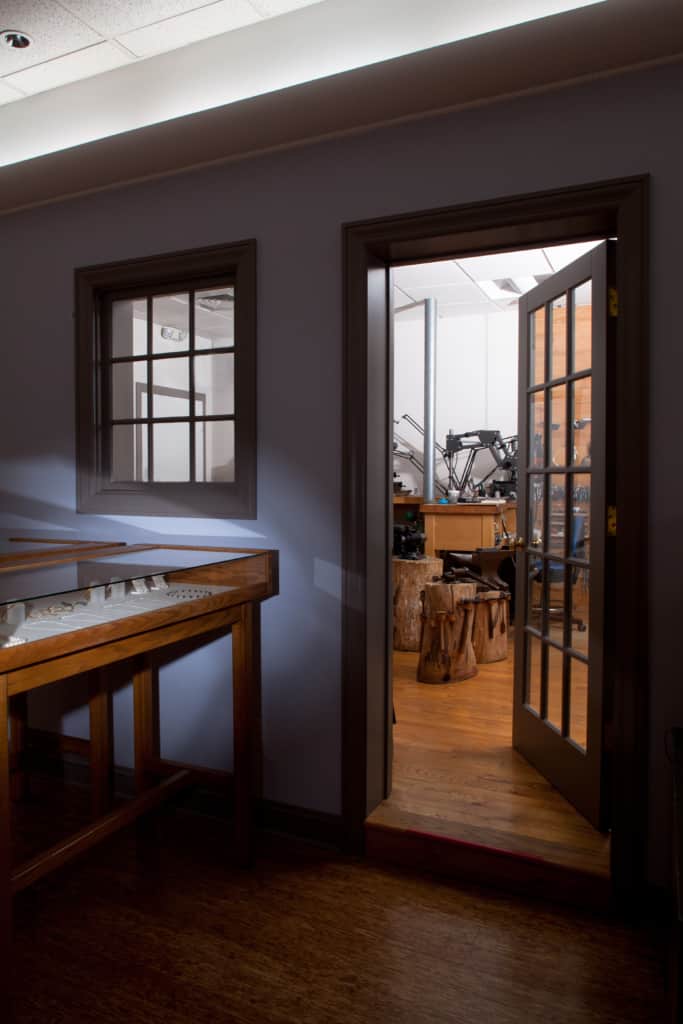 A small step and doorway separates the workshop from the studio showroom.  Most of the time, the door is open and we welcome customers to come inside.   We keep the anvil and hammers on heavy tree stumps, a traditional blacksmithing technique.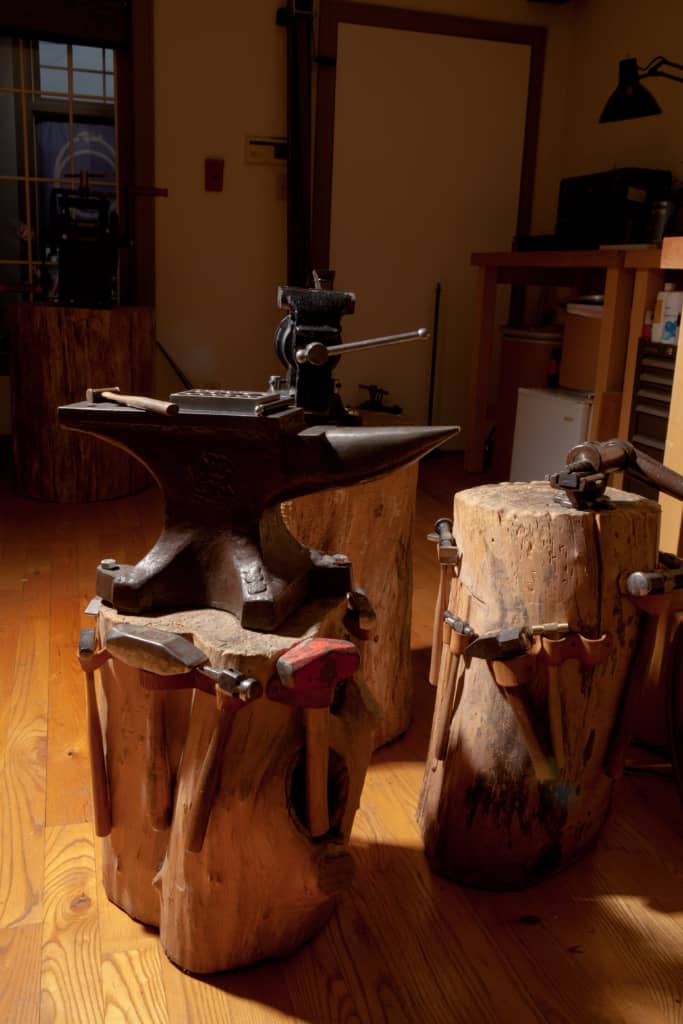 I use the anvil the same way a blacksmith does, but I hammer precious metals into earrings, bracelets and neckpieces.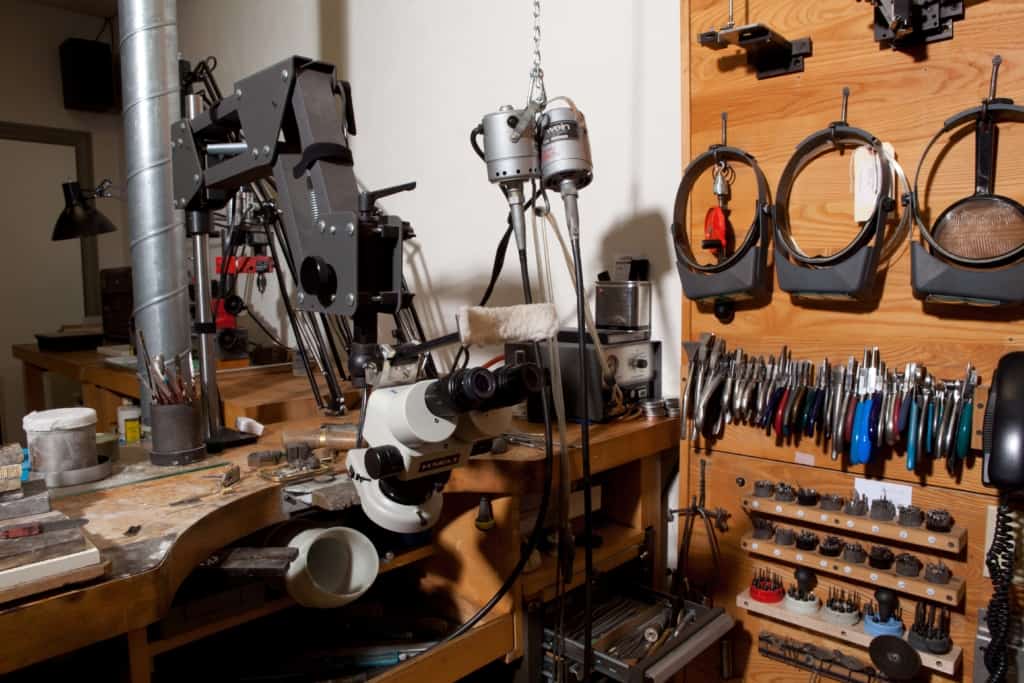 My bench was featured in a book written about jewelers' benches. It has a classic half-round cutout that is an exact recreation of the one in a bench I inherited from Fred Clayter. Fred worked with the Tiffany's in the early 1900's and was a professor at Carnegie Tech. This bench has more storage than Fred's. Many of the hand tools in the drawers and on the tool wall were his, but I have added hundreds of my own.
I can draw in 3D and show customers the design in realistic images of metal and gemstones before it is made.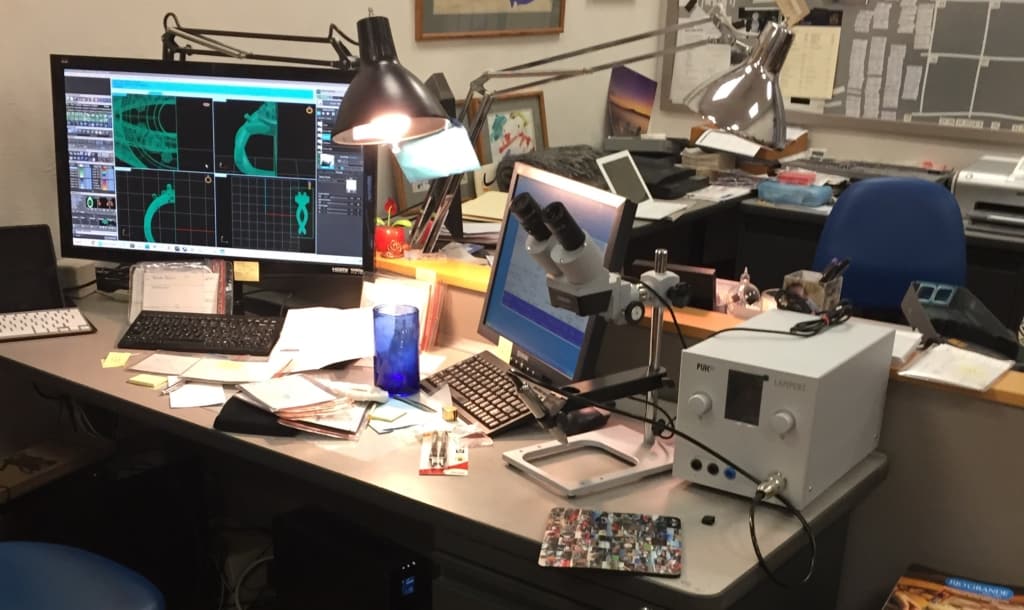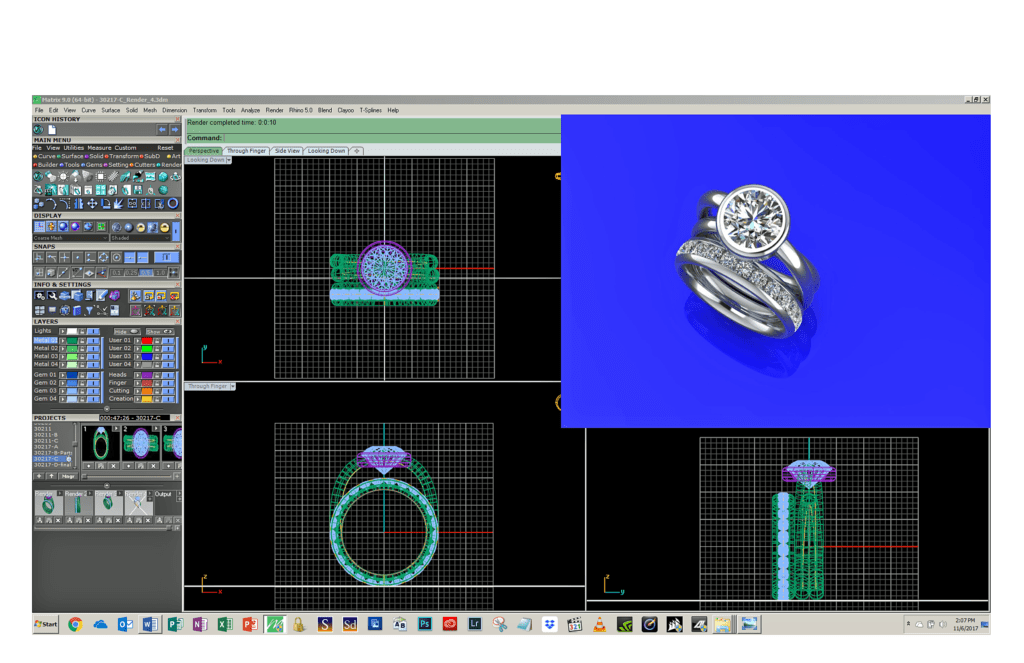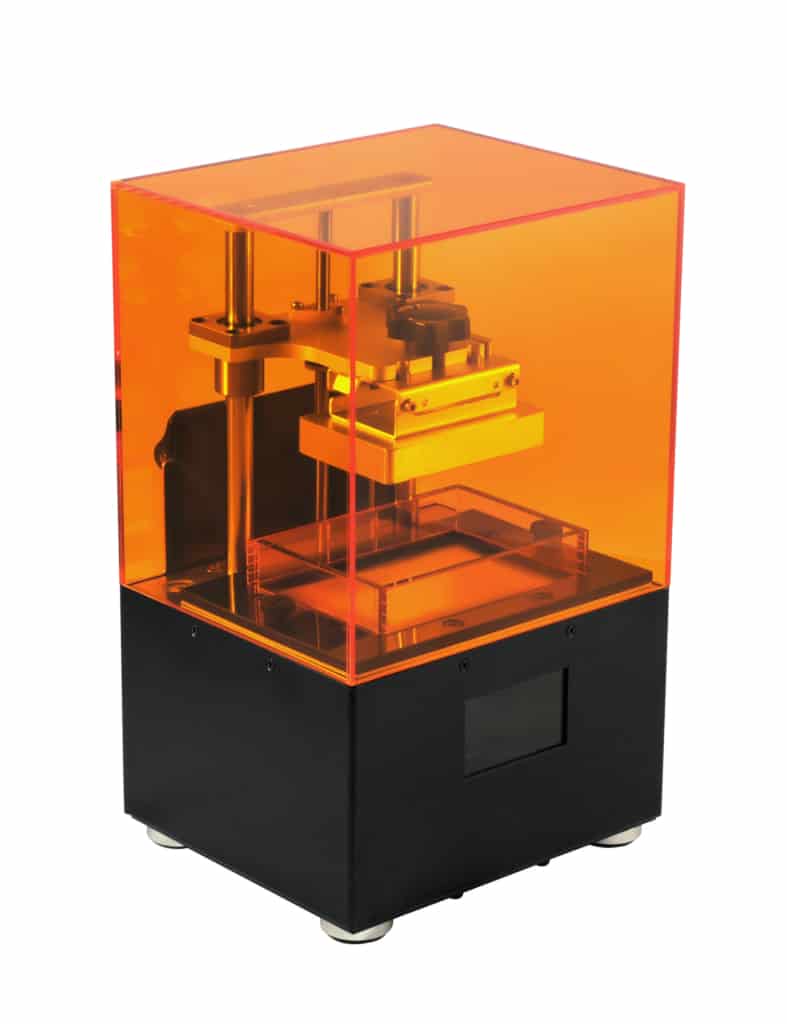 While I still use many tools that would be familiar to a jeweler from the 1800's, I have also embraced technology. Computer Aided Design or CAD allows me to design more precisely than ever before. I can draw in 3-D and show customers the design in realistic images of metal and gemstones before it is made.
The white box on the right of the desk is a TIG welder. It uses an intense electric pulse to weld precious metals and allows me to work next to heat sensitive gemstones without risk.
The 3D printer with the amber shield is the newest addition to our studio and converts the CAD to a detailed model that I can cast in gold or platinum.