About Kyle and Rob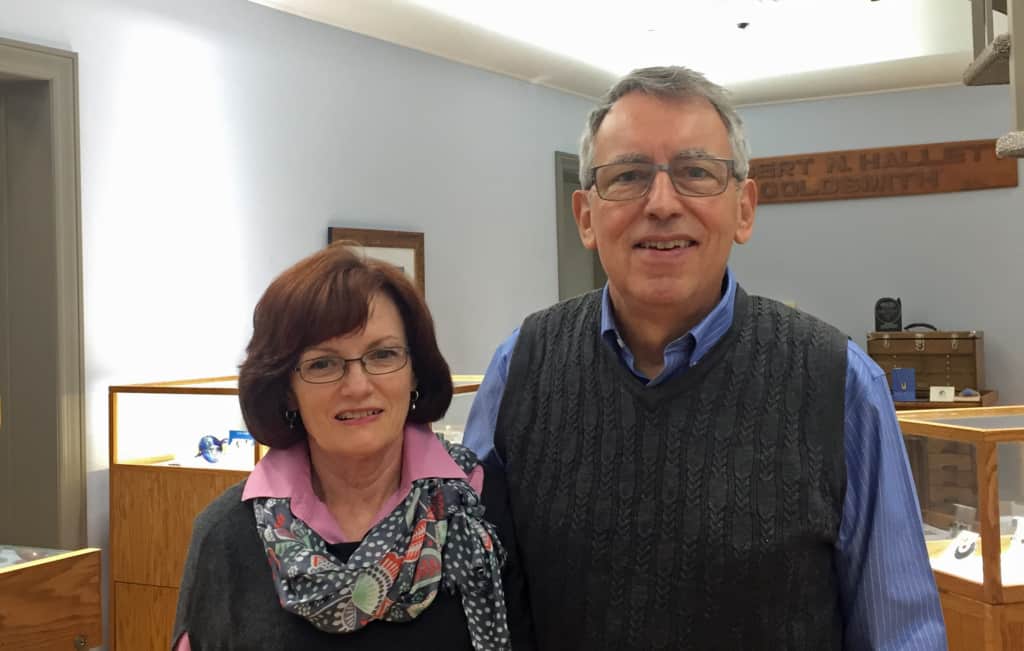 Kyle grew up in Fox Chapel, and we met in high school where our first date was the prom. She has a BA from Syracuse University. She did post-graduate work at the Newhouse School of Journalism, which lead to a first job as a magazine editor. She also did graduate work in photography and most of the photographs you see here are hers. She has done extensive study of gemology with the Gemological Institute of America GIA. Kyle is the traditional "jeweler" who makes our business work. She is responsible for buying, the showroom, customer relations, accounting, management of Rob, design partner and president of Robert Hallett, Goldsmith Inc.
I started making jewelry as a hobby in 1966. I thought ahead, found a future business partner and took Kyle to the prom. My first college major was physics and I am a graduate of Syracuse University with a Bachelor of Fine Arts in Metalsmithing. I am past president of the local guild of the American Gem Society or AGS, Board Member of Pennsylvania Jewelers and Past president of the Oakmont Chamber of Commerce. I am our IT department, design partner, CAD designer, non-profitable project manager, and president of KH Manufacturing Inc.
Our Studio History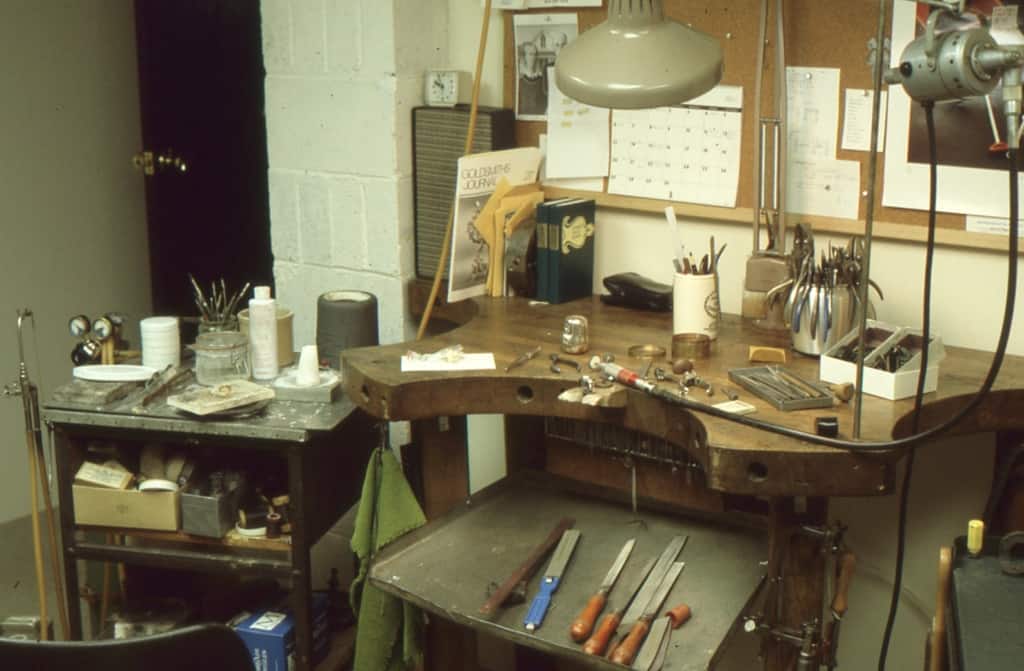 Unlike other startups, our first studio wasn't in a garage – it moved from a dorm room to a spare bedroom and then was under a garage.  Two of the display cases in our current showroom were built by my father to fit in our 1970 VW beetle.  We took our jewelry to shows run by the American Crafts Council and our work was sold in more than 20 stores and galleries around the country. 
We opened our first studio in Oakmont in 1980 and our daughter, Devin, was born 5 days later.
We moved up the street to our current location in 1983.  We started our business with nothing and still have most of it. Everything from showroom lighting to display case interiors was designed and made in house.   
Kyle and I run a very unique business.  We have a wonderful and affordable space in the best building in a great town.  We are truly "vertically integrated" doing everything from design to finished jewelry to photography in house.   
Our daughter, Devin, now has her law office, Hallett Snyder Law, in our old workshop space in the building. 
Zach and Ethan, our grandsons, call us Uma and Grandpa. Both seem to like fire, and have their own hammers.  Our business may have a long future.