Design Awards are a welcome result when a jewelry designer is given an unusual challenge and allowed to play.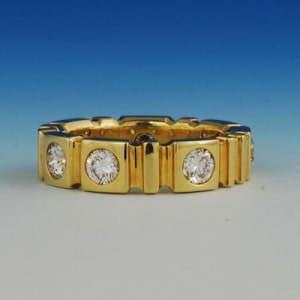 DeBeers Diamonds Today Award

 1975
The challenge was to design a wedding band with 1 carat of small diamonds around the band.  DeBeers expected small diamonds evenly spaced but we chose to use 7 diamonds of the biggest size that can comfortably fit in a band.  We had borrowed the diamonds and had to sell the original ring to pay for them! We arranged them at random and the design became a HALLETT Classic.  
Spectrum Awards
The American Gem Trade Association Spectrum Award is a national honor recognizing outstanding design showcasing colored gemstones.  We won 4 Spectrum Awards in 5 years and became famous for entering spectacular jewelry in the lowest price category of the competition.  It was a blast, but we stopped entering when the rules changed to favor more expensive and mainstream designs.  These winning designs are all on display in our studio.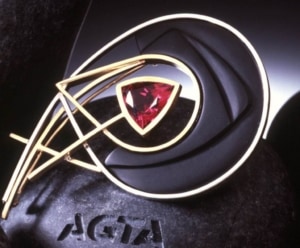 Spectrum Award 19

94
Hand carved onyx by Dieter Lorenz, rubellite tourmaline, platinum and 18K brooch.  Dieter asked how we were inspired and we said, "We just completed your design."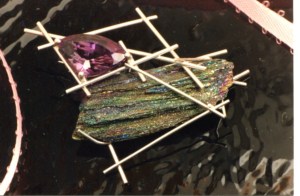 Spectrum 

Award

 

19

96
Amethyst, rainbow hematite and platinum brooch.  This form of hematite has tiny particles that refract light into rainbow colors.  This piece is predominately purple to match the amethyst.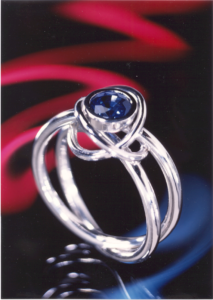 S

pectrum Award 199

7
Ceylon sapphire and platinum ring. The original of this piece was a custom diamond engagement ring.  This design has been retired.  We have a new version.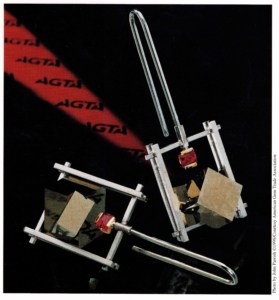 Spectrum 

Award

 199

8
Natural cubic pyrite, ruby, and platinum earrings.  The mirror-like cubes are from Spain near Madrid and come out of the rock just like this.